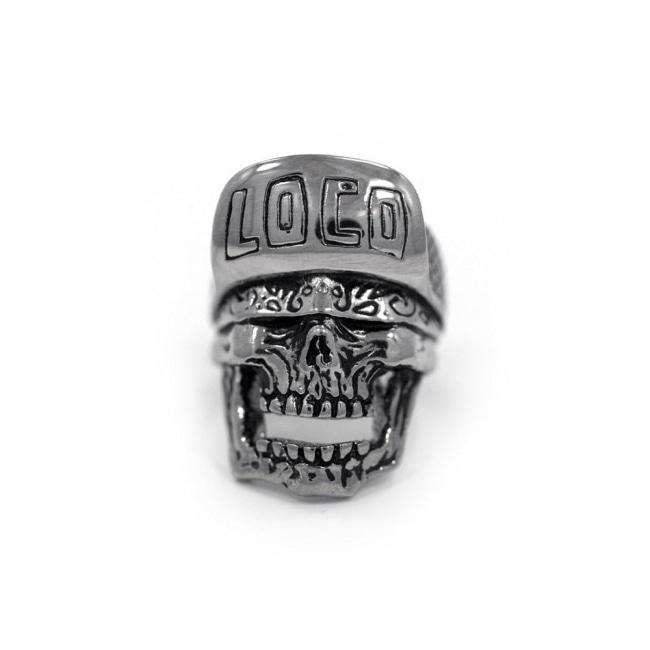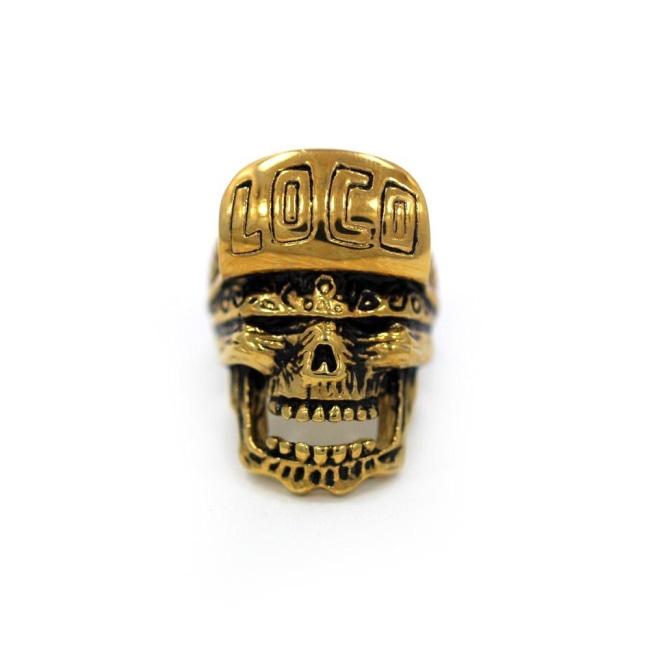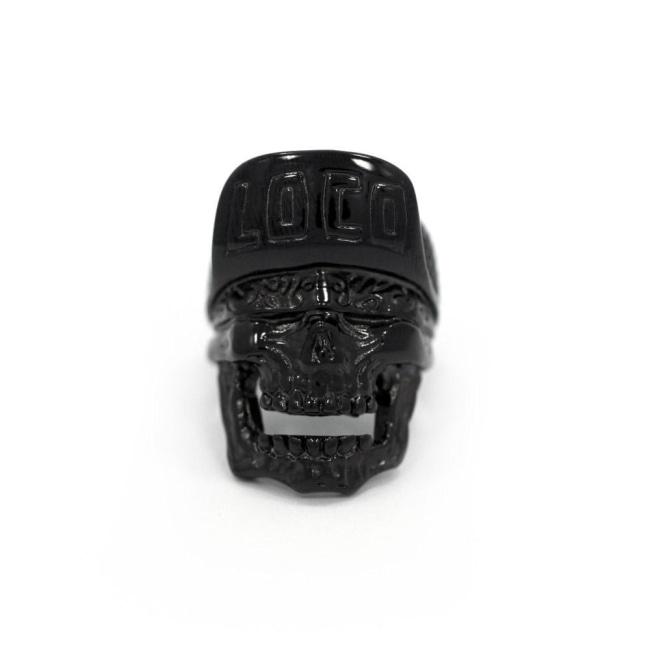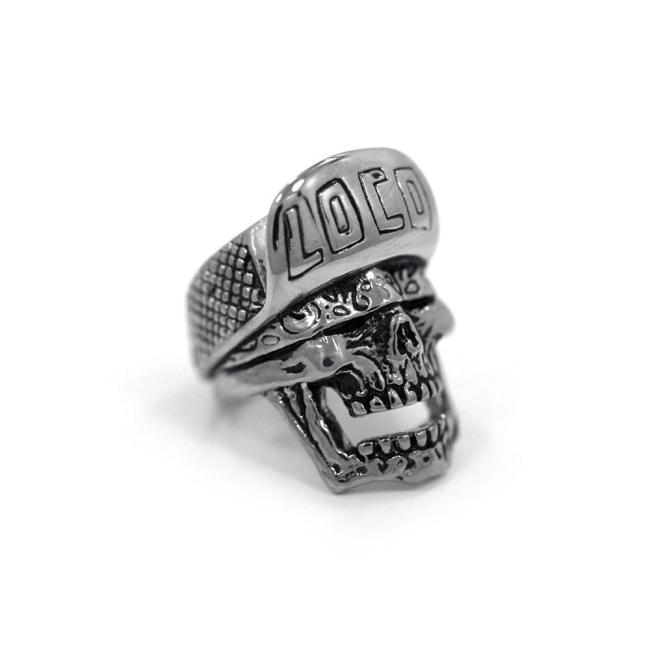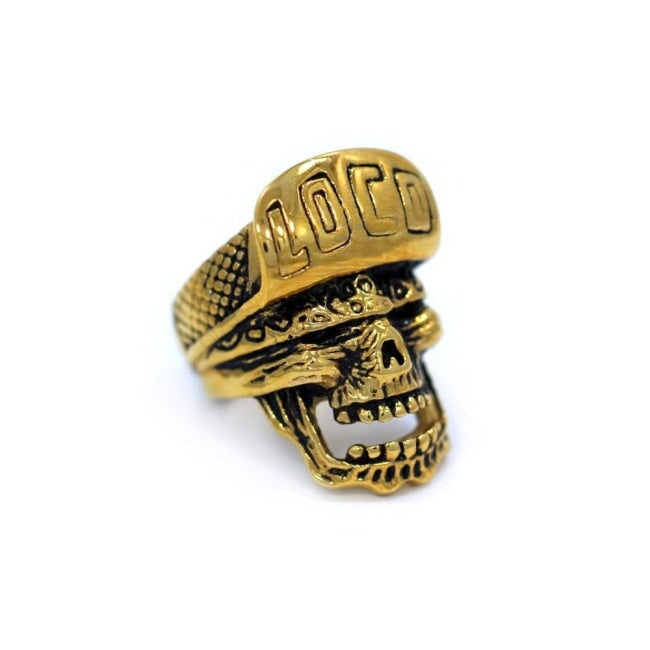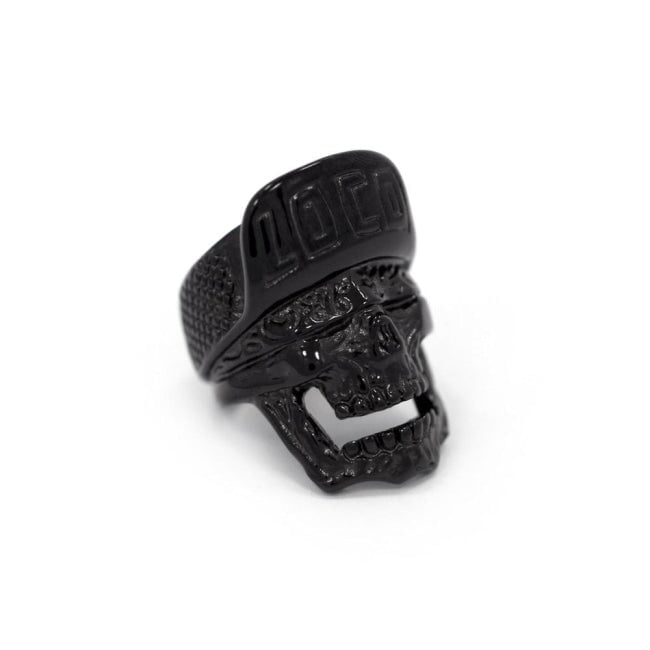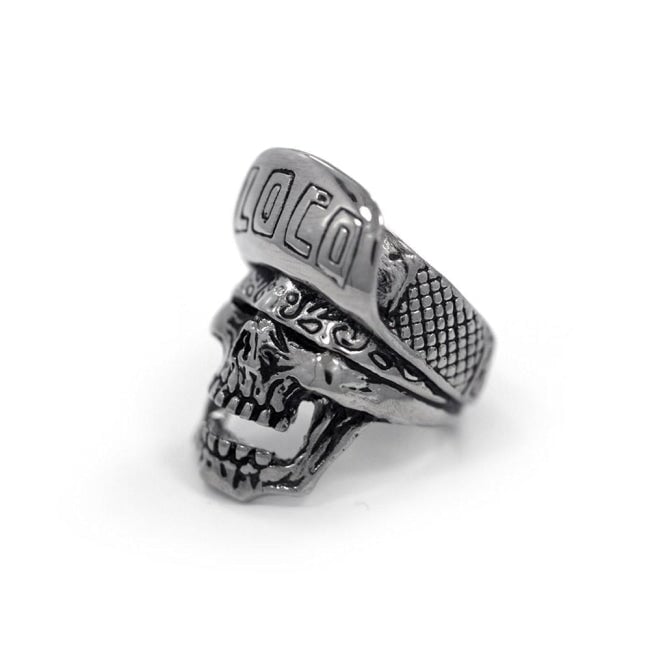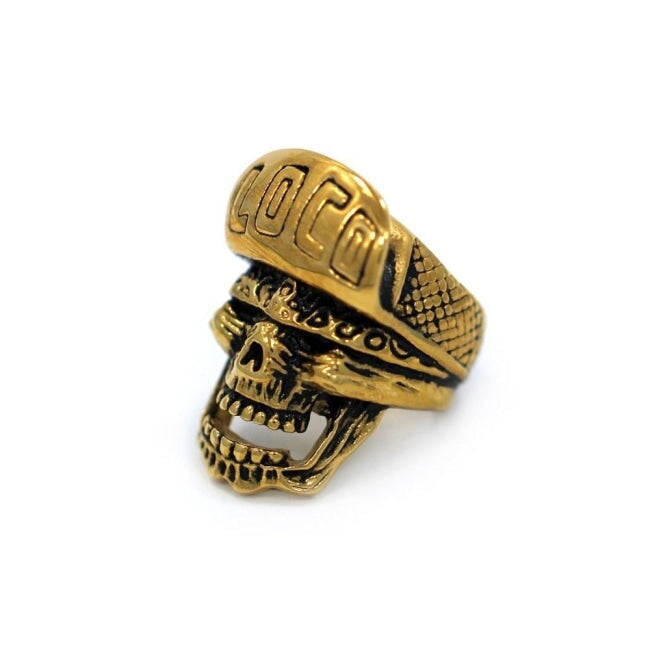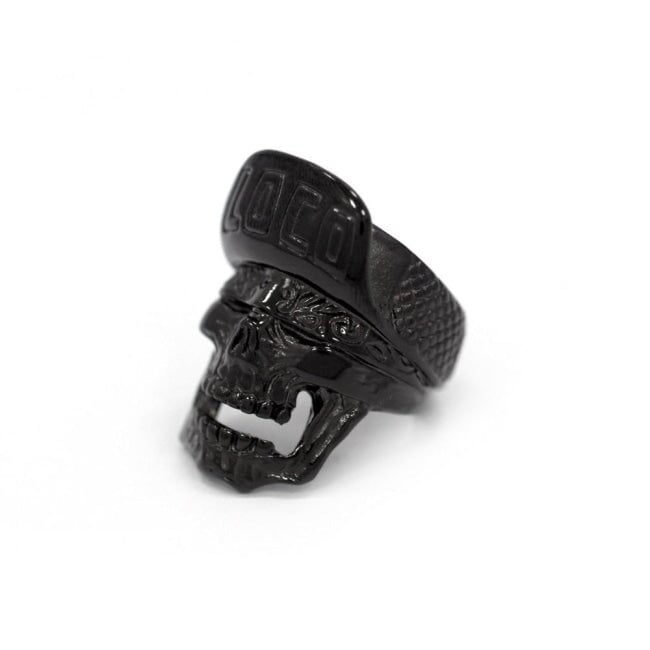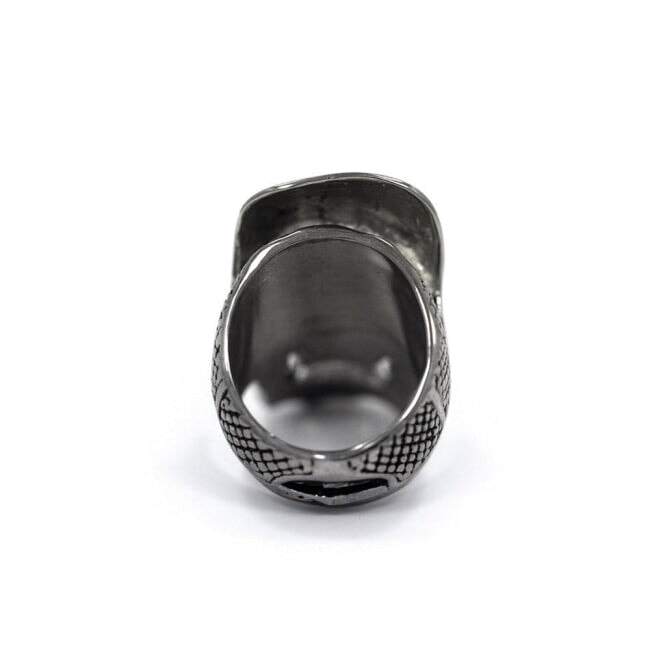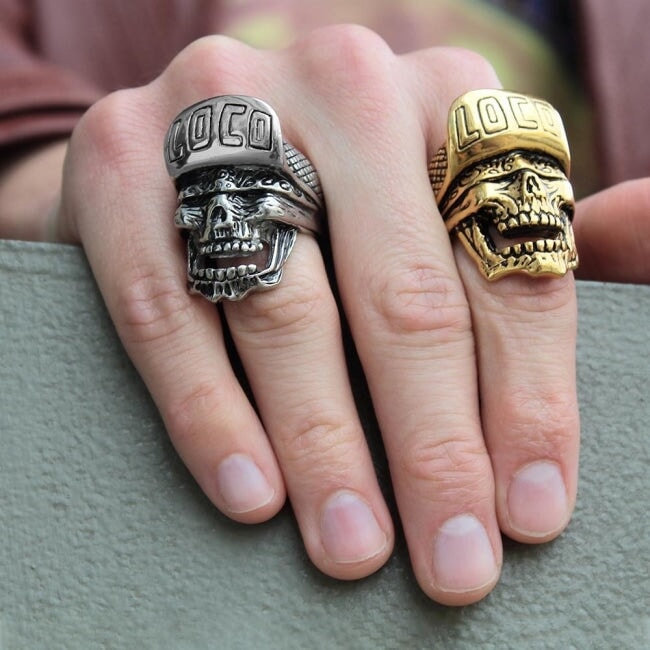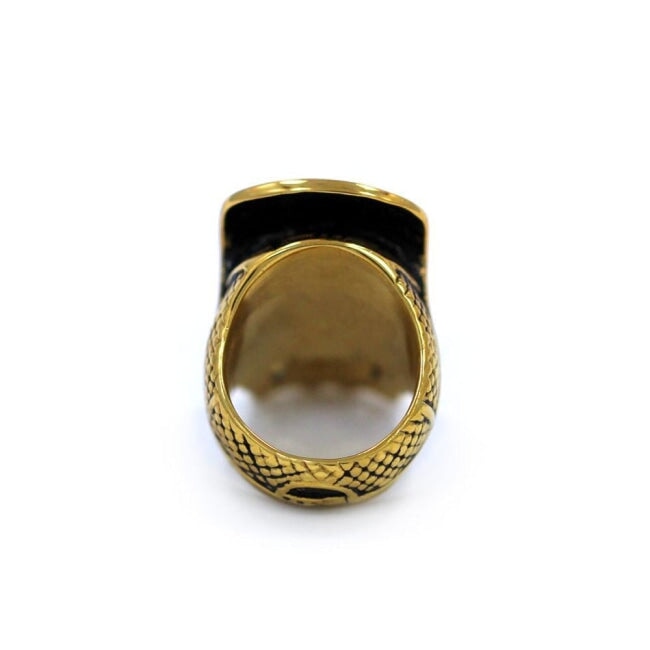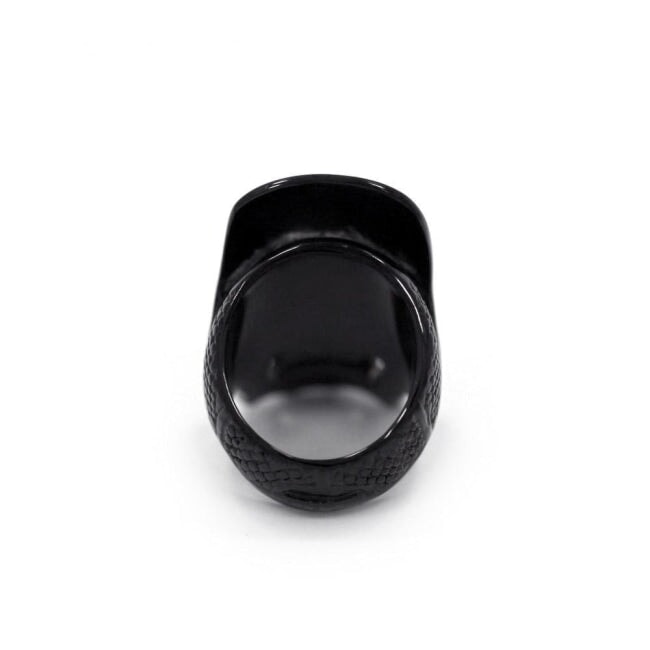 One of the OG Han Cholo designs from the early 200's and it's still one of our best. Inspired around the Suicidal Tendencies, the loco skull represents the skate punk lifestyle from Venice Beach to East L.A.
Full on with the flipped brim and bandana across the forehead this is a full on West Coast lifestyle ring. Hand designed in Los Angeles California and made out of Surgical stainless steel this ring will be able to handle any mosh pit or riot. Get your Loco skull today and go cruise your favorite neighborhood.

+ DESIGN: LOCO SKULL RING INSPIRED BY THE PUNK ROCK SCENE IN LA.
+ QUALITY: HAND DESIGNED IN LOS ANGELES, CALIFORNIA.
+ MATERIAL: 100% SURGICAL STAINLESS STEEL & HYPOALLERGENIC
+ DETAIL: COMES IN GOLD, SILVER OR GUNMETAL STAINLESS STEELW/ ANTIQUED DETAIL. 
+ © 2020 HAN CHOLO.
FAQ
HOW WILL I KNOW MY JEWELRY IS AUTHENTIC?
All Han Cholo jewelry will have our mark or logo somewhere on it. Because our pieces are so unique, that mark is not always in the same place based on the design. For all of our Precious Metals, Sterling Silver .925 and Vermeil orders you will see an additional mark on the item with a .925. Each item has been tested and verified as authentic .925 sterling silver. Please note that due to the sizing of some items, the logo or marking may be hard to find.
WILL MY JEWELRY TARNISH?
Not on our watch! For all the best tips and tricks to keep your jewelry in tip top shape we suggest taking a closer look at our jewelry care page
DO YOU MAKE CUSTOM PIECES?
Yes, we love creating original jewelry designs & specialize in custom work. This service cost varies on an individual basis and is based on the nature of the project.
We currently offer customizations to most of our Precious Metals assortment such as: Custom stone type, Engraving, Re-sizing or custom sizing.
Because each of our pieces are unique, please email us with the below to see if the customization your wanting is available.
Note any changes or special details you'd like i.e. engraving of "I'm Badass" in Old English Script or New Stone color or type, i.e. Ruby or Amethyst.
Please note that a deposit is required in order to start the custom project.
DO YOU PROVIDE ENGRAVING SERVICES?
Yes, we provide engraving services on most of our made to order precious metals items. Please email shop@hancholo.com  to enquire further about engraving on a piece. Please note that If you choose to have one of your items engraved, it can add 3-5 business days to your order and does require an additional fee.
Shipping
Shipping Times
Vary based on item.

Stainless steel item that are in stock will ship 24-48hrs after order is placed.
All Sterling Silver pieces are made to order. Please allow 2-4 weeks for production and delivery.
Shipping times may vary depending on the holiday season.
Order tracking
After the 2-4 week time frame, we will ship out your order and you will receive tracking information. We will only have shipping information available after the piece has shipped.
Get in touch
If you have any questions or concerns regarding your order please head to the Contact Us page or email us at shop@hancholo.com with your order number in the subject line.
All emails will be responded to within 48 hours of being received.
About us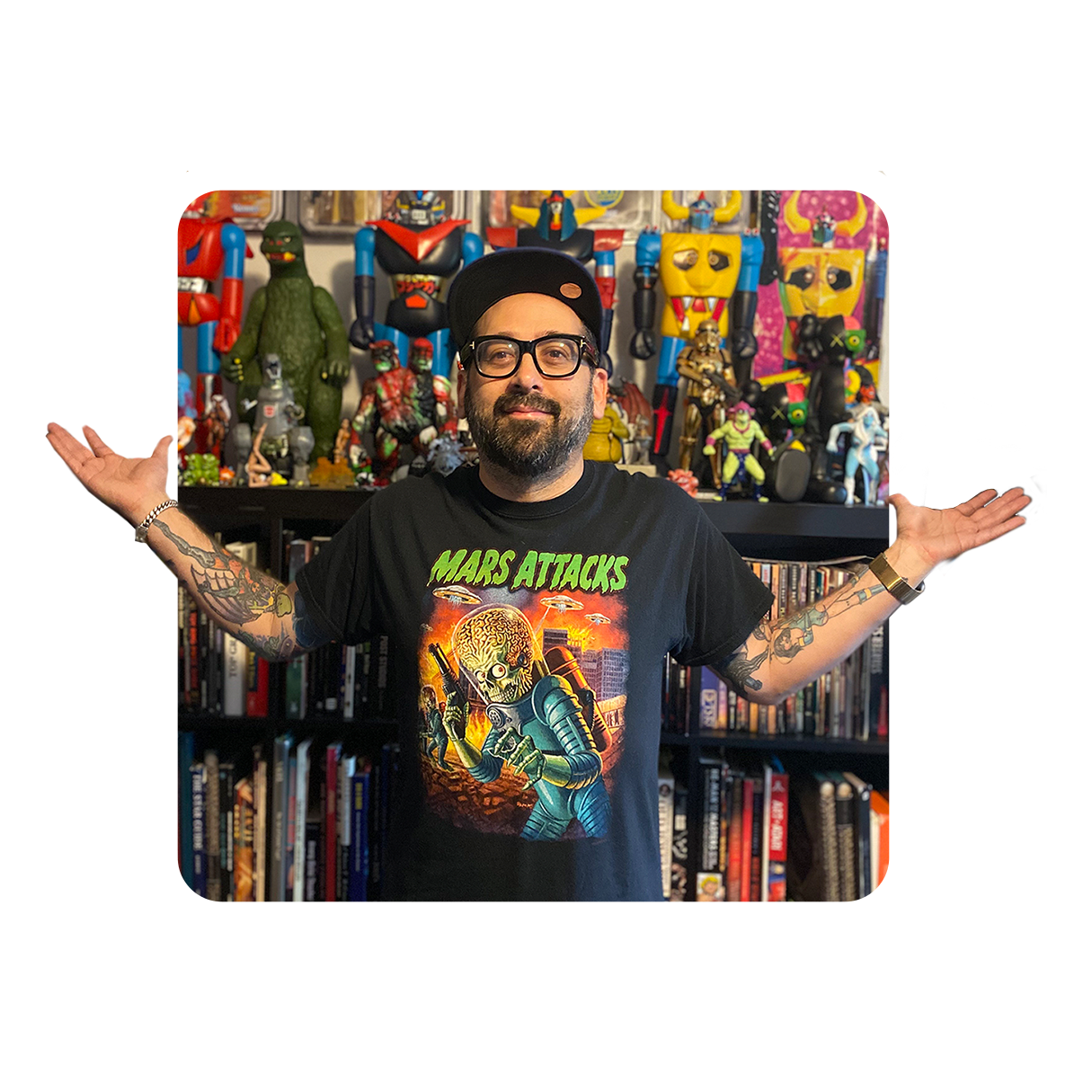 Meet the Designer
Born and raised in Los Angeles, California, "Han Cholo" designer Brandon Schoolhouse, grew up immersed in the sub culture of Hollywood's music and art scene.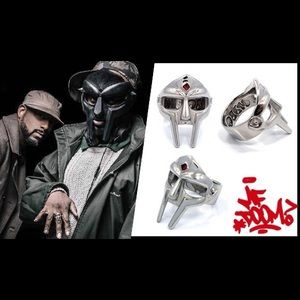 The Inspiration
Deeply invested in his afternoon cartoons from a young age...he started making jewelry that no one else was. Jewelry that resonates with those who speak the language of art, cartoons, and fantasy.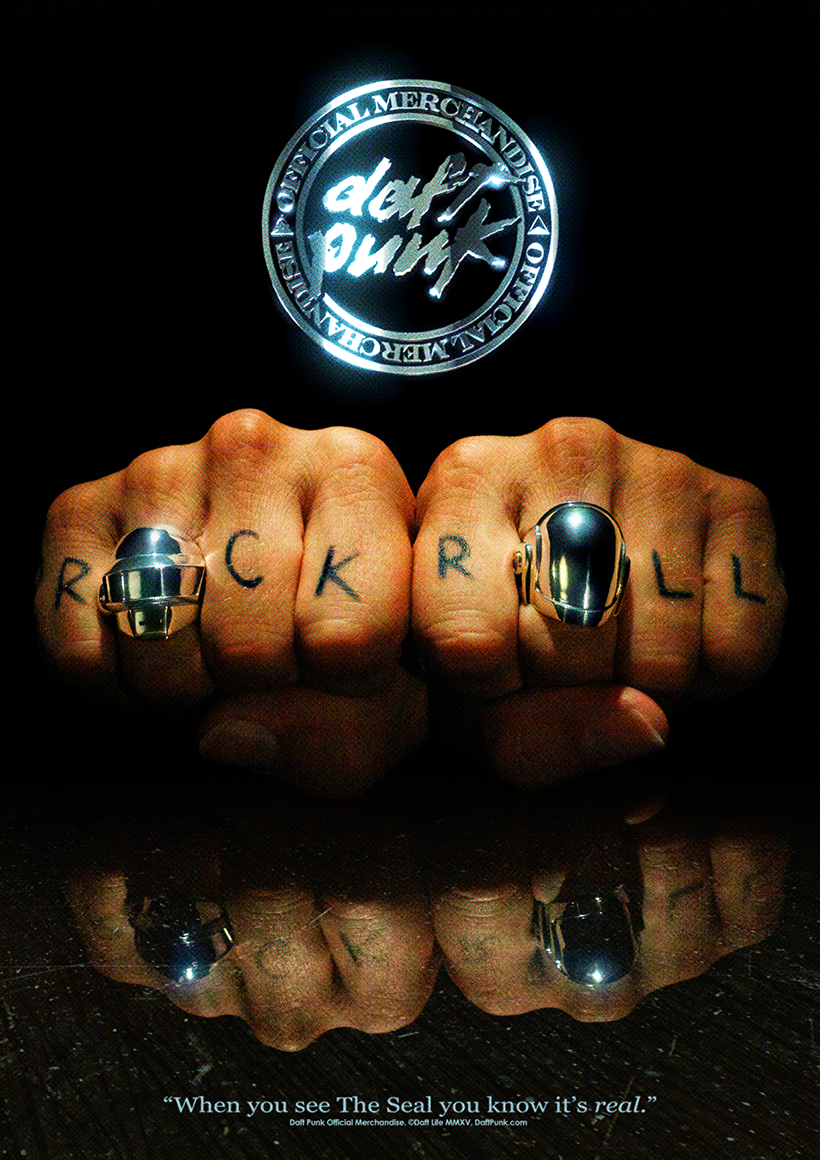 Look at us now
As Han Cholo is so greatly influenced by Rock N' Roll, Science Fiction, Fantasy Art, and the Los Angeles Culture, the line has become the "it" accessory among Hollywood fashionistas and celebrities alike. Fans of Han Cholo include: Queens of the Stone Age, MF Doom, Billie Eilish, Brad Pitt, Gwen Stefani, Little Dragon, Twin Shadow, Jane's Addiction, the Rza, Snoop Dogg, Iggy Azalea, Black Eyed Peas, Soulja Boy, Miley Cyrus, M.I.A., Christina Aguilera, Hanni El Khatib, MF Doom, The Osbourne's, The Yeah, Yeah, Yeahs, Beck, MSTRKRFT, Rihanna, Priscilla Presley and many others…
Han Cholo also has done custom work for other companies such as: Disney's Tron, Bloc 28, Hasbro, Nintendo Wii, Boost Mobile, X Box, HHGL Awards, Hot Wheels, the Oscars, the Grammy's, MTV Awards, Doritos, MSTRKRFT, Teenage Riot Records, Mad Decent, X Large, Klipsch Speakers, Diamond Supply, Amp Energy Drink, Burton Snowboards, Yo! MTV Raps, Kat Von D and Puma just to mention a few.
Another Amazing Piece of Art
This is my 5th piece from Han Cholo, 3 rings and two pendants with chains, and have also ended up buying my girl a matching ring and pendant and chain and I gotta say, they have some amazing fucking sales, and for the quality that you get and the customer service that they're amazing at, it is so fucking worth it. Man it took me forever and then some to find a jeweler that was making sick quality pieces that I would not only wear but be happy to wear and show off. I'm always getting, damn thats sick where'd you get that, "Han Cholo" trust, the name says it all, and the shit is choice, I always take my stuff off to shower just as habit but my girl always wears her pieces and there has never been a hint of rust/discoloration...amazing shit. Definitely recommend this sick ass Loco Ring (Which is very big, at the moment I have it on my ring finger and it takes up the entire space from the first knuckle to the next knuckle in the middle of the finger, but I fucking love it) and Han Cholo in general for the nerdy/musician/film buff/creative in so many people that want to express their loves in life and Han Cholo captures that shit perfectly. Cant thank y'all enough, and I'm sure you'll see my name come through you're billing before long. XD
Great Ring
Fit pretty much how I wanted for my little finger
Loco Skull Ring
The craftsmanship And quality on the ring is top notch, awesome design very unique and always get compliments where ever I go,...